Odoo Elasticsearch / OpenSearch
Product no. PK-00050 - Software maintenance no. SP-00050

Search your Odoo data in the backend in a few milliseconds.

Odoo 12 Odoo 13
Module price starts at 1.999,- €
Our modules are exclusively available under the AGPL license and a detailed documentation in German language. The price depends on the number of users. Our sales department will be pleased to submit an individual offer. All prices are subject to VAT.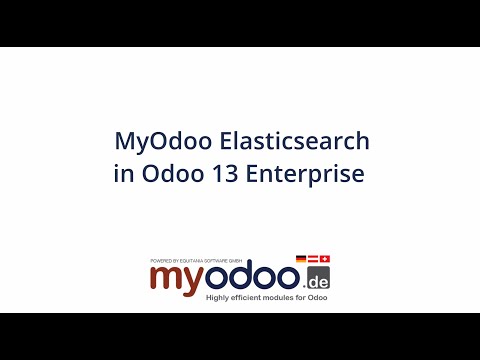 This module contains a new and fast search function (ElasticSearch) in the backend, which uses an ElasticSearch-DB as a basis, all data is regularly exported to ElasticSearch-DB via cronjob and is included in the search.
The search supports these features:
Exact search for Sale orders: "AN-2017-01432" -> returns only the offer with "AN-2017-01432""AN-2017-0142*" --> return all offers with "AN-2017-0142
More search examples: Cutomer: Müller
Customers: Müller
Supplier: Müller
Suppliers: Müller
Saleorder: Müller
A search word can be also consisting more words: "Uwe Martin" or "Customer: Uwe Martin"

The search options also provide AND and NOT. E.g.:
+sodo+martin = data that contains "sodo" and "martin"
Customer:+sodo +martin = all customers with "sodo" and "martin"
+sodo+martin -uwe = all data contains "sodo" und "martin" but not "uwe"


In search the following tables are included
Menus

Leads (crm.lead)

Documents (ir.attachment)

Messages (mail.message)

E-Mails (mail.mail)

Sale Orders (sale.order)

Invoices (account_invoice)

Products (product.template)

Purchase Orders (purchase.order)

Contacts ( res.partner)

Serialnr./ Lot
More features:

categorized search results

preview of number of results per filter

Switch function in search results

Last change date visible

Search proposals available
Logging available

You can activate the logging for several tables separately. It is shown in Backend under logging.
e-Commerce search for products, that are published in webshop
These products are regularly exported to ES-DB with Cronjob and stored for the webshop under an extra index, which can be specified in the settings for Elastic Search. These fields of the table product_template are exported:
Name (German, English)
Number
Sales text description (German, English)
Picture
List price
Websitesuche mit Elasticsearch
With the module eq_es_website the following content on websites can be searched:
static pages
blogs
Webshop Produkte
The detailed module documentation can be found in our Wiki.
Package components
This package essentially consists of the modules:
eq_es_base

eq_es_ecommerce

eq_es_web

eq_es_web_mrp


eq_es_web_project

eq_es_website
Subject to change without notice.
Starten Sie noch heute Ihre Anfrage zu unseren Paketen!

Unser Team wird Sie gerne beraten.