MyOdoo OneDrive Connector
Product No. PK-00270 - Software Maintenance No. SP-00270

Functional extension for the document management of Odoo
Access data are stored encrypted

Root folder on OneDrive is created automatically

Document attachments are inserted into OneDrive and optionally deleted

automatic folder structure

Tested with Microsoft Office 365

Module is available for version 10/12
Module price start at 1.990,- €
Our modules are exclusively available under the AGPL license and a detailed documentation in German language. The price depends on the number of users. Our sales department will be pleased to submit an individual offer. All prices are subject to VAT.
In the following we describe the OneDrive Connector. This includes the same functions as the MyOdoo Nextcloud Anbindung and differs essentially only in the equipment.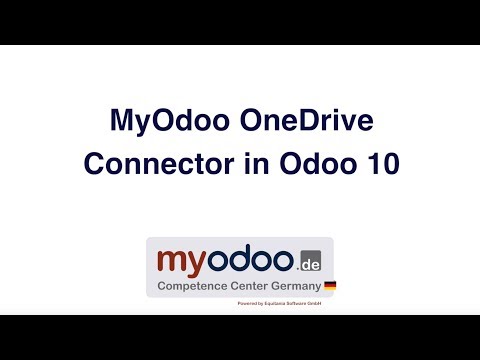 Installieren Sie unter Apps das Modul MyOdoo OneDrive Connector bzw. eq_cloud_onedrive, welches der technische Name für unser Modul ist. Das Modul haben wir auch in unserem Modul Wiki für Sie dokumentiert. Der Mehrwert dieser App ist, dass sie bidirektional mit Dokumenten in Odoo arbeiten können. Das heißt, Sie können Dokumente in beide Richtungen synchronisieren von Odoo in OneDrive und zurück in Odoo. Dabei wird eine übersichtliche Ordnerstruktur angelegt.
Under Apps, install the module ownERP OneDrive Connector or eq_cloud_onedrive, which is the technical name for our module. We have also documented the module for you in our module Wiki. The added value of this app is that you can work bidirectionally with documents in Odoo. That means you can synchronize documents in both directions from Odoo to OneDrive and back to Odoo. A clear folder structure is created.
It is possible to adjust the root folder. By default it is called ERP but it can be renamed. All subdirectories are renamed accordingly. What should not be synchronized, you can delete from the list using the multiple selection, e.g. if no product documents should be synchronized.
Now check the box Activate Cloud (note: without this check mark nothing will be synchronized!) and activate logging if necessary. Start the initial cronjob to transfer the existing documents to the OneDrive environment once. Your root folder and the subordinate folders including their contents will now be created. In OneDrive you will see them as soon as the cronjob has finished.

This application runs a service for newly created documents that synchronizes the data just in time between the two systems.
Springen wir nun in einen Kunden und fügen wir dort einmal ein Dokument hinzu. Diesen Anhang haben wir im Kunden gespeichert. Sämtliche Dateiformate, wie JPG, Textdateien oder PDFs, werden unterstützt. Nach dem Refresh sehe ich, dass das Icon nun gefüllt ist und mir anzeigt, dass Dokumente in OneDrive vorhanden sind. Mit Klick auf den Smartbutton springe ich direkt in den OneDrive Ordner. Im Entwicklermodus sehe ich außerdem den Cloud-Pfad.
Now let's jump to a customer and add a document there. We have saved this attachment in the customer. All file formats such as JPG, text files or Pdfs are supported. After the refresh I see that the icon is now filled and shows me that documents are available in Onedrive. With a click on the smartbutton I jump directly into the OneDrive folder. In developer mode I also see the cloud path.
To store project documents you need an additional module called eq_cloud_onedrive_project which adds the model for projects to the synchronization.
As you can see, we didn't have to do much configuration at all, and we didn't create any folders manually. These are the essential features of the ownERP OneDrive connection.

You can find the detailed module documentation in our Wiki

Package components
This package essentially consists of the modules:
eq_cloud_base

eq_cloud_onedrive

eq_cloud_onedrive_project
Subject to change without notice.